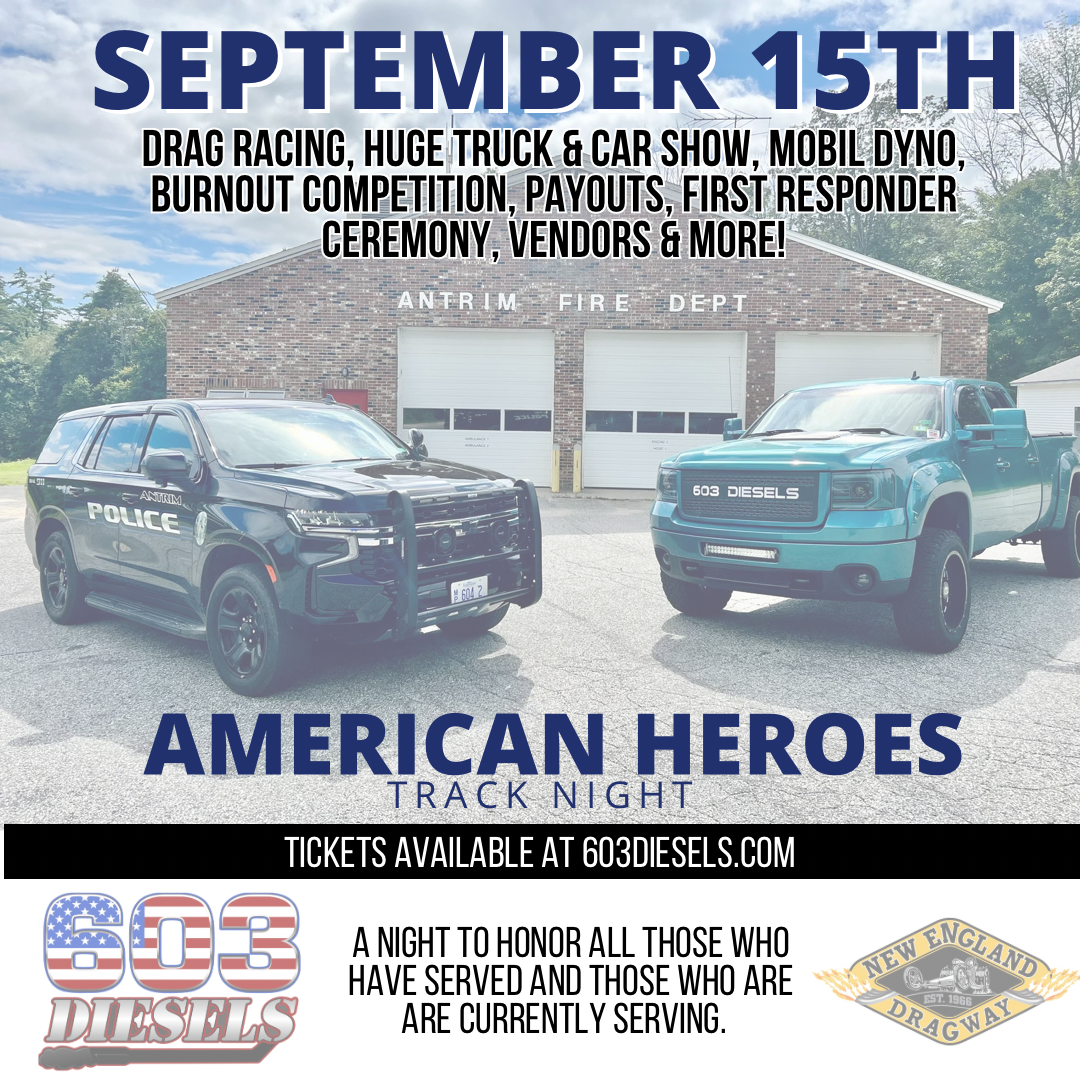 September 15th
Located at New England Dragway
Gates Open at 5PM for Spectators
Early Entry at 4PM for participants, show & shine pass holders and VIP Parking Pass holders
Tickets available online or at the gate!
Get Tickets Here
EVENT INFORMATION
BASIC EVENT INFO

Join us for our American Heroes Track Night at New England Dragway! ALL vehicle types are welcomed. At this event you will find Test & Tune Drag Racing and competitive Drag Racing, a HUGE Show & Shine fit for all kinds of vehicles (not just trucks), a Mobil Dyno, Burnout Competition on the track, food, music, vendors and more!

JOIN THE FUN!

If you would like to enter any of the following activities be sure to register at the link below!

Show & Shine
Burnout Comp
Dyno Competition
Competitive Racing
Vendor
Event Details
Is this event only for Trucks?

Not at all! This event is for anything with a motor. Trucks (gas and diesel), Cars, Bikes and everything in between are welcomed! You can even come to just spectate and hangout with us!
Show & Shine

Join us for the most diverse Show & Shine we have ever done judged by a team of guest judges!

Categories:

Top 10
Best Emergency Response Vehicle
Best Tow Truck
Best Military Vehicle
Get Fkt Award
Ronnzoni Award
603 Diesels Choice

Sponsored by Hatem Graphics & Fkt Supply Co
Racing

Come test & tune or race for $$$

Racers choice with a min purse of $500 will be chosen at the event. Purse will increase based on # of racers. $50 buy in, in addition to a racers ticket.
Dyno

$130 per vehicle for 3 runs.

Preregister at the link below!

Highest HP + TQ takes home $500

Sponsored by DTS Automotive
Burnout Comp

This burnout competition is not a burnout pit. This is on the race track burnout box. Must be stationary.
Photoshoots

Onsite photoshoots will be available with Swift Media. Minimum of 5 edits by one of the best auto photographers in New England! Normally $150 discounted to $50. Reserve your slot at the link above as spots are limited.
Vendors/Sponsors

Looking to attend this event as a vendor or be an event sponsor? Please email 603Diesels@gmail.com for the most up to date information!
EVENT INFORMATION
BASIC EVENT INFO

Spectator Weekend Pass $40
Racer Weekend Pass $65
Kids 12 and under are FREE

-

Service Animals are the only animals allowed at this event. Insured Golf Carts and SxS's are allowed. Outside alcohol is not permitted.

TICKET ADD-ON'S

ALL PASSES ARE VALID FOR THE ENTIRE WEEKEND.

VIP Tailgate Parking Pass

$18 Per Vehicle

Show & Shine Weekend Pass

$28 Per Vehicle

$20 Per Vehicle

Dyno Ticket - 3 Pulls for $130
Tug of War - Free to enter
Photoshoot with Swift Media $50

ACCOMODATIONS

Onsite Camping Saturday Night $30 per vehicle/camper/tent
Two Lakes Camping Area - Oxford, ME
Hampton Inn - Oxford, ME
Oxford Casino Hotel - Oxford, ME

.

More Affordable Options - Farther Drive

Poland Spring Resort - Poland, ME

Quality Inn - Auburn, ME
SHOW & SHINE / COMPETITOR INFO
SHOW & SHINE CATEGORIES

Show & Shine Categories:

Saturday:

1. Best of ME

2. Best of NH

3. Best of MA

4. Best of VT

5. Best of CT

6.  Best of RI

7. Best of NJ

8. Best of NY

9. Best Race Truck

10. Best Tow Pig

11. Most Dirty

12. Most Patriotic 

13. Ronnzoni Award

14. Get Fat Award

15. Best Wheels

16. Best Suspension

17. Best Glow

18. Best Gas

19. Best SxS

20. Best Jeep

21. Best Car

22. Best Car - Diesel

23. Best Tow Truck

24. Best Off-Road

25. Best Square Body

26. Best Engine Bay

27. Best Dually

28. Best Classic




Sunday Categories:

1. Best Dodge

2. Best Ford

3. Best GM

4. Farthest Drive

5. Best Booth Truck

6. Best Female Ride

7. Best Big Rig

8. 603 Diesels Choice
RACING / DYNO

Saturday Diesel Race - Racers Choice

1st Place $1000 / 2nd Place $500

Sunday Diesel Race - Call Out Bracket Race

$50 cash buy in - winner takes all

Sponsored by TMS Diesel
BURNOUT COMPETITION / TUG OF WAR

Top Burnout each day takes home $500 and a trophy sponsored by Burnout Nationals. Must pre-register - $20 entry fee.

Tug of War - Top 5 will receive trophies! No entry fee - must pre-register.
VENDORS / SPONSOR

Vendor and Event Sponsor Spots are still available. Please email 603DIESELS@GMAIL.COM for more information.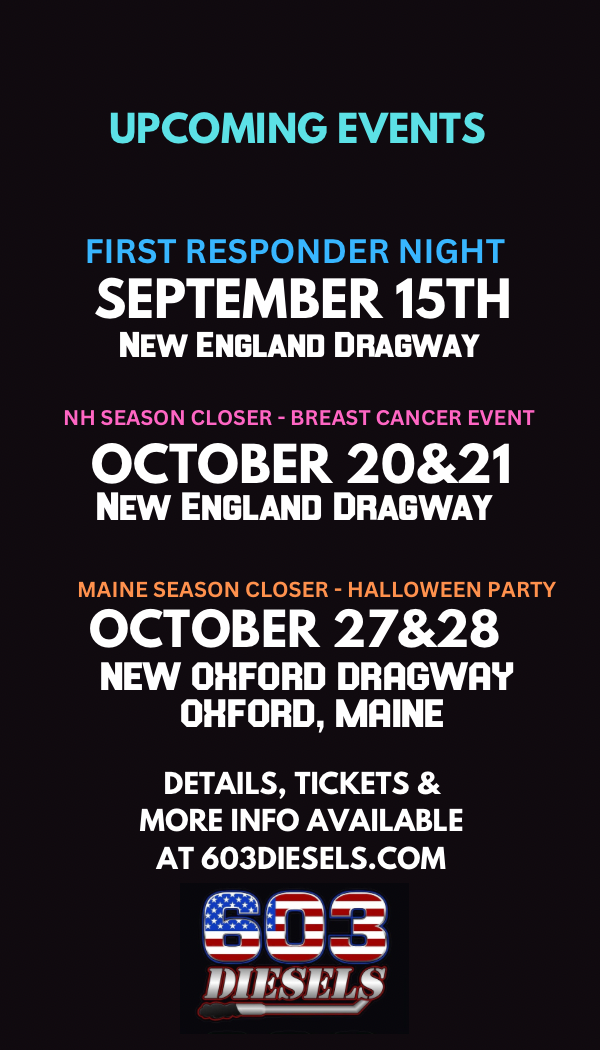 2023 Event Dates
In addition to these events we will also be attending other pop up events. For those event dates make sure to check out our Instagram page @603dieselsofficial
Tickets